Publication With and for Roma in the Danube region
PUBLICATION DOWNLOAD (pdf 1,5 MB)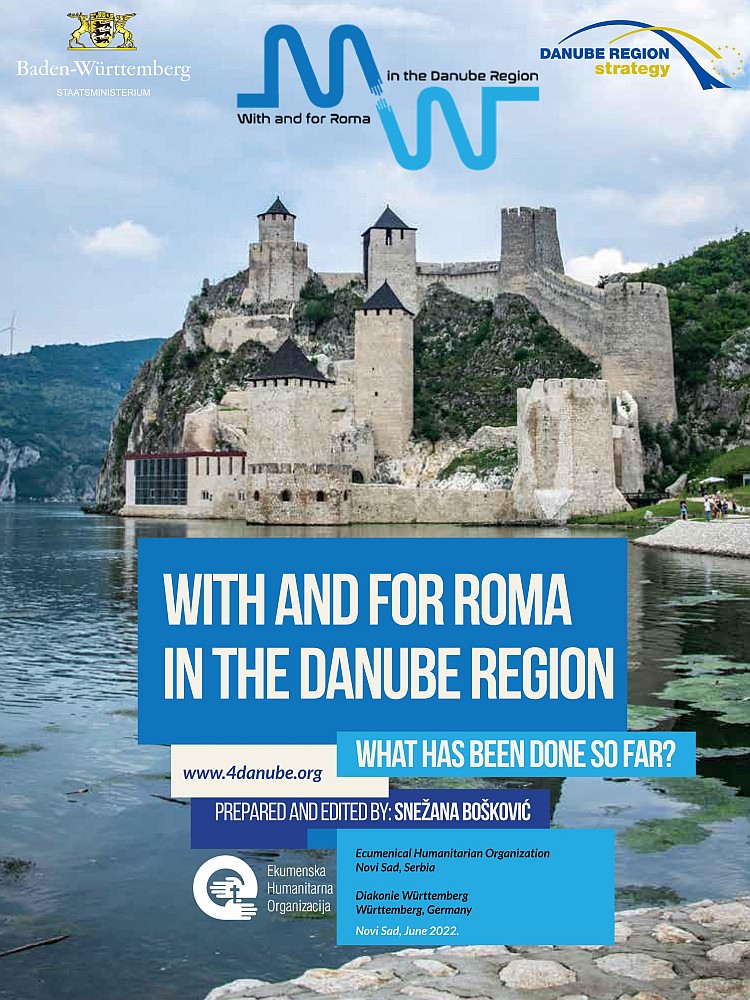 Results
Working on the same problems on different locations in different countries we noticed some synergy effects:
SYNERGY EFFECTS TRIAL PHASE A
(against domestic violence)
Domestic violence is not only a specific problem of Roma communities, nevertheless it has to be addressed in an adapted manner to be recognized and prevented.
The importance of cross-sectoral cooperation for preventing violence and creating support mechanisms and services should be recognized.
The causes of marriages among minors should be sought in poverty, social exclusion and deprivation of children and not in the traditional forms, cultures and traditions of the Roma community.
It is important to develop sensitivity for local cultural patterns and accordingly develop early prevention programmes.
SYNERGY EFFECTS TRIAL PHASE B
There is a need to continue providing better education programmes as key to breaking Roma poverty cycle.
Pre-school programmes and language support is important for preparing the children for entry into school.
It is important to provide direct support to parents in order to motivate them to be more supportive to their children in further process of education.
It is also important to continue to provide space and tools for practicing their parental competencies and to continue to inform Roma parents about programmes -''Second chance'' and support their educational prequalification.
There is a need for developing and maintaining the jointly prevention drop out programmes and activities that support educational needs of children.
It is also important to assure the schooling of children in non-segregated schools and their attendance in quality and inclusive school.
SYNERGY EFFECTS TRIAL PHASE C
We need to better understand motives and Roma migration patterns: permanent, temporary, seasonal, circular.
It is important to continue to supply information and motivate them to take legal actions regarding the migration process and job searching on the labor market.
Strengthening of development services in legal advices, consultancies and promoting positive effects of legal migration in Roma communities is important as well.
Networking with public institutions and CSOs in order to exchange practices and methodologies working with Mobile Roma.
CONCLUSIONS AND LEARNING LESSONS:
Local relevance: Local engagement and addressing issues on local level empowers Roma to make their own voice heard
There is no magic solution: Similar problems in partner countries requires adapted approaches and tools
Networking: more intersectoral cooperation and exchanging practices on local, regional and international level, between public and private actors in order to ensure a real flow of relevant information
Education: It is necessary to develop programmes and services regarding education, in order to sustain violence and school – drop – out prevention so that the chain of poverty can be broken
Dissemination: Sensibilization of public institutions and services for working with marginalized groups is essential for understanding poverty, violence and specific issues (ex. arranged early marriages) in Roma communities
Prioritising: Recognising issues that could/should be dealt with at the most immediate level and empower local actors (public and private) to act accordingly
Dignity: Contributing to the change of traditional perspectives empowers marginalized people and comunities to live according to their guaranteed human rights and defend themselves against discrimination and social stigma
Continuity: The experience gained and the lessons learned during the implementation of the project will help us improve the design, implementation and monitoring of future actions and projects on local level and in Danube Region